Southern Industrial Tool reduces job time and improved safety to a wide variety of industries including the United States Military, power generation, steel production, oil and gas production, manufacturing, chemical, aluminum production, quarry, aero-space, bridge and heavy construction, steel erection, wind power generation, pipeline installation and maintenance, and petrochemical production.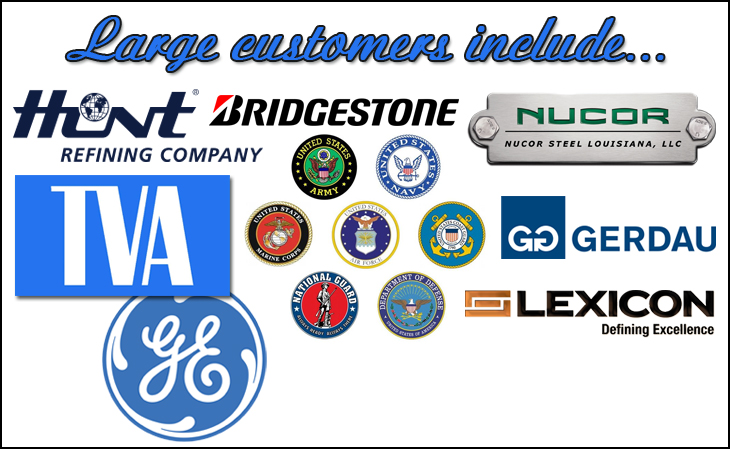 Our bolting includes sales and rental of:
RAD torque wrenches, including pneumatic torque wrenches, battery torque wrenches, electric torque wrenches, electronic torque wrenches, heavy hex sockets, E-Rad electronic torque wrench. repair and calibration service.
TorsionX torque wrenches including hydraulic square drive torque wrenches, low clearance hydraulic torque wrenches, electric hydraulic torque wrench pumps, pneumatic hydraulic torque wrench pumps, repair and calibration services and deep well sockets.
Hi-Force hydraulic tools, including a wide range of multi-purpose low height cylinders and multi-purpose cylinders, manual operated hydraulic pumps, electric hydraulic pumps, pneumatic hydraulic pumps, hydraulic hoses, hydraulic jacks, bottle jacks, manual torque wrenches, manual torque multipliers, hydraulic bolt tensioners, hydraulic bolt stretchers, lifting equipment, sub-sea hydraulic bolt tensioners, hydraulic bolt tensioner pumps, hydrotest pumps, hydraulic pullers, hydraulic crimpers, hydraulic cutters, hydraulic rope and cable cutters, hydraulic hole punchers, hydraulic nut splitters, hydraulic nut busters, hydraulic flange spreaders, hydraulic pipe benders, multi-roller steerable skates and male hex sockets.
SIC Codes
The SIC Codes of 131
Crude petroleum and natural gas, 1311
Crude petroleum and natural gas, 1382
Oil and gas exploration services, 1429
Crushed and broken stone, 2819
Chemicals-industrial inorganic, 2821
Plastic materials and resins, 2824
Organic fibers, noncellulosic, 2899
Chemical preparations, 2911
Petroleum refining, 3011
Tires and inner tubes, 3089
Plastic products, 3272
Concrete products, 3281
Cut stone and stone products, 3312
Blast furnaces and steel mills, 3317
Steel pipe and tubes, 3353
Aluminum sheet, plate and foil, 3441
Structural metal-fabricated, 3443
Plate work-fabricated (boiler shops), 3499
Metal products-fabricated, 3624
Carbon and graphite products
Cranes and Hoists – 3536