Southern Industrial Tools On Sale!
It's a great time to stock up on your favorite torque tools! All tools are factory new and come with a one-year warranty, in stock and ready to ship today.
Looking for a great deal on our industrial tools? Bookmark this page, as we often list bolting tools from RAD, Torsion-x and High-Force here at fantastic discounted prices.

Brushless Select Battery Torque Wrench : B-RAD SELECT BL 1000-2
List Price $7100 Summer Sale Price $6400
Lightweight – High Quality – Industrial Battery Torque Wrench
Each B-RAD Select BL Series Battery Torque Wrench comes complete with:

Standard Reaction Arm and Retaining Ring
Two 18- volt Lithium Ion Batteries
Battery Charger
Weatherproof Storage Case

Digital display with programmable preset torque values, automatic back off, and the ability to increase or decrease the value by 10 ft. lbs.
To ensure the highest quality of measurement and accuracy, each B-RAD Select BL Series Batter Torque Wrench comes individually calibrated traceable to ISO 17025 standards.
RAD 80DX Single Speed Torque Wrench
List Price$10,400 – > Summer Sale Price $9350
Extreme Duty Torque Wrenches for heavy duty applications!   
Reliable and dependable solution for the installation and removal of heavy-duty fasteners.
PATENTED drive system delivering one of the highest power-to-weight ratios of any pneumatic controlled bolting system.
Smooth continuous flow of controlled torque eliminating destructive hammering.
Lightweight ergonomic pistol grip design reducing operator strain and injury; resulting in increased productivity.
Stall type tool capable of accuracy of +/-4%, and repeatability of +/-2%.
Contact Southern Industrial Tool to rent or buy this serious tool for seriously big jobs.
B-RAD Select BL1000-2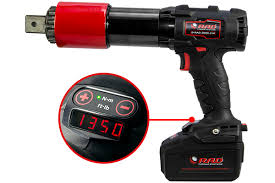 List Price: $7100 Sale Price:$6399