Description
The Hi-Force SJS10 hydraulic spreader offers the ideal solution for spreading, wedging and prising operations in a wide variety of industrial applications. The compact, low weight, spring assisted, piston retract design of the SJS10 offers the user a powerful 13 tonnes of spreading capacity.

Manufactured from high strength steel, the low height jaw tips can easily fit within an 8mm gap and can provide a total spreading distance of 60mm in 5 operations, using the step blocks provided with the tool. Suitable for operation up to 700 Bar maximum working pressure, and supplied complete with a female half quick connect coupler for easy attachment to a Hi-Force manually operated or powered hydraulic pump.
Capacity 13 tonnes per spreader unit
Supplied with safety block & stepped blocks
Maximum spread 60mm

Many applications require two tools, operated simultaneously, to achieve an even spread of a flange joint during gasket replacement. The SJS10-TK comprehensive kit offers the solution for this and comprises of two SJS10 spreaders, manually operated lightweight aluminium pump, controlled manifold, two pressure gauges, gauge blocks and hoses. All connections are fitted with quick release couplers and the set is supplied in a strong metal transport and storage box.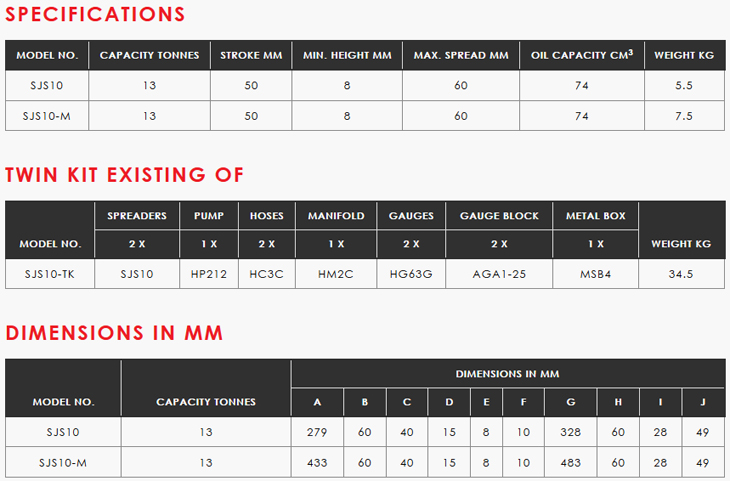 The SJS10-M has all the features of the SJS10, but with the added benefit of an inbuilt manually operated hand pump. All SJS10 & SJS10-M hydraulic spreaders are supplied complete with two stepped blocks (for increased spreading capacity) and one stepped safety block. The SJS10-TK comes complete with a double set of stepped and safety blocks.
Single acting, spring assisted return
Compact & lightweight design